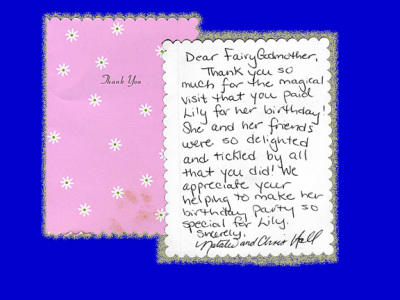 Frequently Asked Questions
What do I do to GET READY  for a Fairy GodMother Party? 
 NOTHING!!!   The  Fairy Godmother  arrives fully prepared  (with her glitter bags and suit case) and requires NO  preliminaries or set-ups!!! 
Are Fairy Godmother Parties suitable for Boys?
Heavens YES!  The Fairy Godmother designed her parties so that  any boy or girl  who enjoys  a theme park would find a far more "personal" and up close enchanting experience  as  thrilling!  Regardless of gender, ALL children   LOVE being made to feel SO special when  real "story book magic" arrives on their very OWN door step! 
How much ROOM or SPACE  do I need?
   Practically NONE! 

 Just enough for the children to sit on the floor around the Fairy Godmother!  SO scoot the coffee table back and you are ALL SET! 
Sit on the Floor????  Seriously?  Why not around a  table or couches or chairs?
    Firstly ( as the Fairy Godmother's costumes are quite elaborate) , being down on the children's same level  automatically  puts the children  more at ease! 
 Secondly (and even more importantly) it ensures that no child is left out as  ALL of the children are within "arms length"  when (for example) the balloon amimals give "kisses" or Skipper the Chipmonk wants  to jump on their heads, or their "magic" is needed to help the Fairy Godmother do something special.
     
 ***  However,  in unusually LARGE parties, the Fairy Godmother may occasionally choose to "elevate" herself onto a chair simply to prevent  children from "squishing" each other (or fussing) in their eagerness to be closer  (Such  is  a "judgement call")  
What Time should I start the party versus have the Fairy GodMother Arrive?
Please plan on STARTING your party at least  30 MINUTES PRIOR to the Fairy Godmother's arrival... for SEVERAL reasons.   (And even more if you are serving lunch or pizza, etc) .....
1)  Little ones require "run around/ acclimation time" so they are completely comfortable in their new environment and situation before the   FairyGodmother arrives.   
2)  LIFE is SO HECTIC  these days!!  "Traffic, or  can't find little brother's shoe, etc etc..."   Please do yourself a BIG favor and   PLAN on "LATE ARRIVALS and trickle- in's" being 5, 10, 15,  even 20 minutes LATE and  you won't be caught off guard  (not if) but WHEN it occurs!   
3) And it is important that ALL the children HEAR and participate in the Fairy Godmother's "Special Introduction" 
A Fairy Godmother Birthday Party begins  THE MOMENT  the Fairy Godmother sets foot through the door and immediately begins to enchant with her  "Special Introduction" 
  Of course, the Fairy Godmother tries to encourage late arrivals to come over and "join in", but let's face it, when everyone turns to look at a newcomer?...most little ones tend to grab mommy or daddy's leg and are  immediately miserable/ uncomfortable by  the unwanted attention of so many "strangers" turning to stare at them!)

PLUS you don't want little guests missing out on the Fairy Godmother's wonderful "Special Introduction"!.  As one of the MANY things it does, is "head off" and prevent little "hurt feelings" throughout the entire party.... as little  one's often wonder why THEY  don't get the first balloon amimal, or get to help the Fairy Godmother with her magic wand, etc, etc, ....which the "Special Introduction" goes to great lengths to explain and prevent!   
Is there anything I should worry about during a Fairy Godmother Party?
Only ONE THING can ruin your child's party!  When the VOLUME of ADULT VOICES  OVERRIDE  the Fairy Godmother!    Of course, we WANT  adults and relatives  enjoying  the party as much as the children, as watching the children is just  SO SO MUCH FUN!!  And a certain amount of background noise, and adult tendency to "catch up or chat" is to be expected.......but  be PREPARED to play "ROOM MONITER"  in order to ensure that  your birthday child and all your  "little" guests  receive the special party YOU planned on  and expected and paid for!!   Versus  a group of children who are completely missing  out on the quick "surprises/jokes/silliness/ stories/ not to mention instructions and explainations of how to do a magic trick or play a game, etc  The Fairy Godmother may be there for the children, but it is after all,  your home and your 
party!  
It is virtually impossible  to  keep a group of excited and adrenaine filled children  fascinated and consistantly entertained  if  they

CAN  NOT HEAR !   

Okay, what exactly is  the "Special Introduction"?
 *Briefly, the Fairy Godmother LOVES to SURPRISE her birthday child!  Pretending that she just happened to POP  by "...because all week long, her little elves have been SO excited about a (little boy or girl) who is SO  wonderful, and super special, she decided she simply had to come see for herself!"  
         By the time the Fairy Godmother asks....."Do you know who my elves have been talking about all week long?  Is there anybody here named _________??", and the other children turn and point?....the birthday child can't help but puff up their chest!  *Whereas the Fairy Godmother gasps and makes a big "to do" while continuing her "introduction", putting the children more and more at ease as well as subtly building excitement  (and using that time to also  get  seated and situated with the children)  She then proceeds to start "looking for the special birthday gift which the elves sent"  only to find that the elves (who LOVE playing tricks) have
filled her pockets
with one
silly thing
after another!!.., until the children are all giggling and squeeling with laughter!    A little bit of magic is required (with the birthday child's help with the magic wand) to FINALLY find the
elves present
, followed by
another magic gift which involves ALL the children. 
 
  Hence, the Special Introduction is ... 
      #1- A big flattering EGO BOOST for the Birthday Child!  **So please remind all other adults/relatives to act surprised!!!  and to NOT  "point out" the birthday child.!!) 
#2- It reinterates to ALL  the OTHER CHILDREN  that the Fairy GodMother is there BECAUSE of the Birthday Child!     ***which heads off/ prevents a LOT of little "hurt feelings" throughout the entire party when (not surprisingly) little one's  forget why THEY  aren't the first to recieve a balloon animal, or  help with the  magic wand, etc, ect.  
#3- It immediately creates  the enchanting and magical tone that is continued throughout the entire party!     

What if I want Group Pictures?
Wonderful!!  By the end of the party, the children are grinning from ear to ear, which is a perfect time for wonderful "posed" group pictures!  
What is the Fairy GodMother "Payment Policy"?
"Fairy GodMother Parties" is a very small and personal business, therefore the "payment policy" is based on somewhat of an "Honor System". As is not surprising, week-ends are in most demand, and once a Party date and time has been "Booked", the Fairy Godmother is turning away ALL OTHER BUSINESS  for that valuable date, therefore the Party Check is requested to be mailed within 48 Hours of the booking in the FULL AMOUNT of the Party Package. All Money is 100% REFUNDABLE with a minimum TWO WEEK NOTIFICATION.   However if  payment is NOT recieved within five (5) business days from the booking, the party time frame will be  reopened.  
How do I "Introduce" the Fairy Godmother?
   You don't!  Although, of course, the Fairy Godmother will do things however you would like her to, she definately prefers her arrival to be a big suprise as well as a perfect springboard for quickly scooping the children into the palm of her hand!  And her Special Introduction  accomplishes several important factors in one fell swoop!
Quick Check List for Fairy Godmother  Childrens Parties
 Keep phone close/ in hand 30 minutes prior to arrival  
 Provide "close" parking for the Fairy Godmother 

Remind other adults to act surprised and to not "point out" the birthday child


Monitor Adult noise levels


Never allow business transactions in front of the children


And be prepared to have your child  say, "WOW!! This was the BEST, most awesome birthday ever!!" 

What if I  wind up with MORE  children than I'd invited/ expected?
IMMEDIATELY CALL THE FAIRY GODMOTHER!!  Then no worries!    She  will make it work  beautifully one way or another!    
The  Fairy GodMother has been doing this long enough (over 20 years!) to always ALWAYS arrive  prepared for a few extra  "surprise" guests , HOWEVER  should your party  numbers increase 
drastically WITHOUT  the Fairy Godmother's prior knowledge
,  the Fairy GodMother CAN NOT  be put in the position of leaving a child or two "
out
" therefore NO  prizes will be awarded.
What about OUTDOOR  Parties? 
Terrific! 
​
Simply throw down a few old blankets, sheets, etc. 
 *Just make sure to keep the Fairy Godmother in the SHADE  at all times!*


Can I serve Cake? 

During the Glitter and Deluxe Party, while the Fairy Godmother is doing Glitter Paintings  is the perfect time for cake!  As the birthday child is always allowed to get the first glitter painting,  such is your "cue" to get your cake, candles, plates, matches, cameras etc ready (NO rush!)  When you are completely ready to light the candles, simply get the Fairy Godmother's  attention and   allow her a moment to explain to the children.  (As little ones can sometimes  get VERY  upset if they think she might be  leaving before they get their glitter painting!  But once she assures them all..."Oh no no, I'm not going ANY where but  we can be having cake AND getting  our glitter paintings BOTH at the SAME time! "   They are then more than happy to come sit at the table and sing happy birthday and start having cake while the Fairy Godmother smoothly goes back to glitter paintings,  sending the children back and forth.  ****However as sticky little fingers and juices boxes have proven a recipe for disaster, the Fairy Godmother must keep her activities AWAY FROM ALL FOOD and  DRINKS ***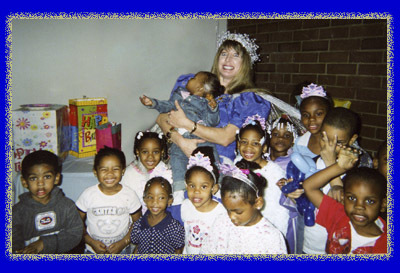 What if I owe for extra children or Travel Fees?
Never a problem....Just please always be discreet and NEVER pay the Fairy Godmother in front of the children!! That would be as bad as seeing Santa being "paid" to visit them! Simply follow the Fairy Godmother outside when the party is over, and all will be well!

TRAVEL FEES 
Time spent doing parties is obviously much more valuable than time spent on the road and week end time is limited hence  the Fairy Godmother does initiate a nominal travel fee of $35/Hr for all areas OUTSIDE the Greensboro City Limits and NO Travel Fees occure until AFTER the City Limits have been crossed. 
 Example: Downtown High Point is approximately 15 minutes aftercrossing the Greensboro City Limit Line, therefore 15 minutes return equals 30 minutes total travel time, making the Total Travel Fee $17.50